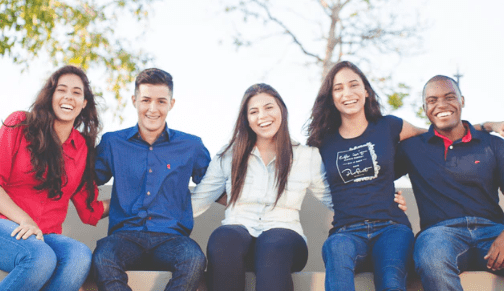 Living with an International Student: Do's and Don'ts
September 26, 2019
Along with pulling an all-nighter during finals week and participating in at least one game of beer-pong, living with a roommate is something most university students are guaranteed to do before they graduate. Living with a roommate is one of the most ubiquitous university experiences and with the UK being the second most popular destination for international students (Universities UK International 2017), it should come as no surprise that living with an international student is a high possibility during your university experience. Living with an international roommate can be eye-opening but also overwhelming due to language and cultural barriers. Keep reading to learn the do's and don'ts of living with an international roommate.
When living with an International Student…
DO: Remember that you're both in the same boat
To find common ground is the first step towards having a positive roommate experience. Therefore, when you find it difficult to connect with your international roommate, remember that they are in the same boat. You are both far away from home and learning to navigate a new city, new learning environment and a new roommate. These adjustments aren't always easy, but knowing your roommate is going through the same situation can make it less tough.
DON'T: Forget about time zone differences
It's tricky to find the time to call home while you're balancing studying, your social life and the 'life challenges' of cooking and cleaning for yourself. Add in the extra complication of calling across time zones and it's nearly impossible. Talk to your roommate and create clear boundaries together to avoid waking each other up with midnight phone calls home. You'll be thankful the night before an early morning exam!
DO: Protect yourself financially
When you and your international roommate sign on to live together, you will likely each become liable for all of the rent under a joint and several contract. This means that if one of you decides to leave the apartment (or country) the other is responsible for the entire payment. Therefore, both you and your roommate should take the necessary step to protect yourselves financially with rent arrears protection. You can apply online with Only My Share before you even move in!
DON'T: Stereotype
This may seem like a no-brainer, but you should never jump to conclusions based on a person's clothing, religion or culture. Avoid creating a mental image of what your international roommate will look or act like based on stereotypes of their home country. Both you and your international roommate should give each other the opportunity to learn about each other's culture, stereotypes aside.
DO: Apply what you learned in the workforce
When you live with someone from a different country, you'll learn about their culture and vice versa. You'll also sharpen your communication and critical thinking skills. In addition to making you a top-notch roommate, these skills are also transferable to the workplace. When it comes to landing your dream job or internship in the future, you'll be thankful for your time spent living with an international roommate.
DON'T: Shy away from new experiences
Make time to get to know your roommate. Ask them questions about their culture and their life back home. Whether you decide to cook a dish from one of your home countries or explore your host city together, you should take advantage of every second of the unique life experience that is living with an international roommate.
This article about "Living with an International Student: Do's and Don't's" was written for Only My Share – the leading Rent Arrears Protection company by Ameena Debboun. For more information on how Only My Share can help you protect yourself against up to £10,000 of a flatmates' rent areas under a joint and several contract in shared accommodation, visit onlymyshare.com or call 0203 887 2961.